AMERICAN SOCIETY FOR COLPOSCOPY OF CERVICAL PATHOLOGY CONFERENCE (ASCCP 2021)
Human Papillomavirus (HPV) is the most common sexually transmitted infection worldwide, affecting up to 90% of sexually active women. The vast majority of patients clear the infection spontaneously. However, there is a percentage of women in whom HPV persists, causing lesions that can progress to cervical cancer, the second most common cancer in young women in Europe.

Procare Health collaborates with physicians and patients in the clinical development of novel treatments such as PAPILOCARE® – the first treatment to prevent and treat cervical lesions caused by HPV – and to deepen the understanding of HPV infection and its consequences. The Papiloscopy Survey aims to better understand the clinical practice in the management of HPV infection by specialists in Spain, in order to improve therapeutic solutions and patient awareness.
To know the opinion of specialists on the situation of HPV management in Spain in 2018 in patients over 30 years of age.A 20-question survey (less than 10 minutes to fill out), with several possible answers, was conducted among 150 specialists who frequently visit HPV+ women.
Several factors can influence the follow-up of patients positive for human papillomavirus (HPV), as it can clear up spontaneously or persist causing lesions and even cervical cancer. The Papilloscopy survey aims to learn about the management of patients over 30 years of age, HPV+ and with low-grade cervical lesions seen by Spanish specialists.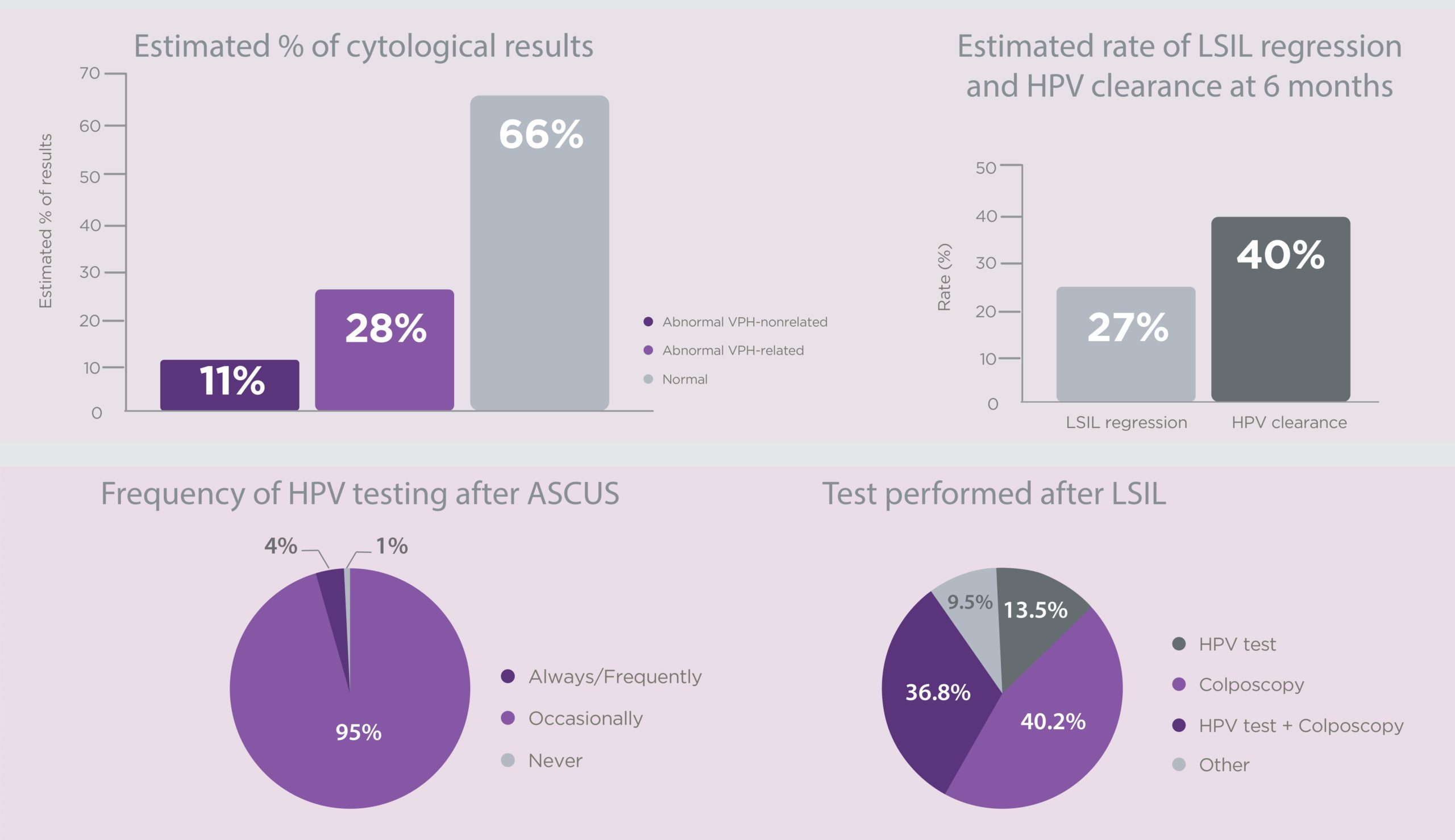 Physicians reported that 28% of the total number of Pap smears performed show HPV-related results. Following a cytologic result of ASCUS, 95% of physicians perform an HPV determination always or frequently. When an LSIL result is seen, 13.5% perform an HPV determination, 40.2% perform an immediate colposcopy and 36.8% perform both tests. If colposcopy results in suspected HPV-induced lesions, 40% perform a biopsy. The gynecologists surveyed estimated that low-grade lesions (LSIL) remit within 6 months in 27% of cases, while 64% of them consider that these lesions persist for 2 years before evolving to high-grade lesions (HSIL). As for viral clearance, respondents estimated that HPV persists for more than 6 months in 60% of patients. After detection of abnormal HPV-related cytology, follow-up is performed, on average at 6 months.
The Papilloscopy survey provides a reliable picture of the management of HPV+ patients in clinical practice in Spain, allowing us to know if it is aligned with best practice guidelines.
VIDEO SUMMARY OF THE PAPILLOSCOPY SURVEY
Carine Emsellem, Member of the Board of Directors and Director of the Scientific-Medical Department of Procare Health, explains in a 5-minute video, a summary of the Papiloscopy survey with the results obtained.
Click on the button below to download the poster presented at the American Society for Colposcopy and Cervical Pathology (ASCCP) 2020 conference.
Click on the button below to download the original Papilloscopy survey that was performed.